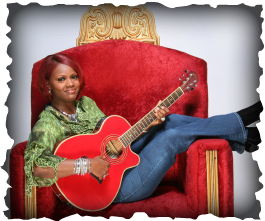 New school spirit … soul … charm … sassy attitude and spirit, meets

Old school values … rooted and grounded sensibilities

And a game changing anointing …

Pontiac, Michigan gave birth to Rena (pronounced RENEE) Hayes. A PK, church gave her larger-than-life personality an outlet of expression. "From age 6 when I learned to play the piano until this very day, all I've ever known was serving the Lord … what better life is there?" Rena says. Her dad, Pastor Earl Crump, who founded and pastors one of the largest churches in Pontiac (The Door of Faith Christian Church) is where Rena currently serves as an ordained Minister, Lead Musician, Head Choir Directress, Psalmist, and highly energetic Minstrel of Worship.


Spending time with God, Rena has acquired a seasoned anointing that spans the genres of Contemporary Christian Praise and Worship and Urban Gospel.

"My goal is simple. To reflect the light of the Son through songs which usher people into the presence of the Lord so powerfully until everyone knows it's Him, not me."

Rena has written and produced three albums, and has released a new single. The title of her first solo release, "Yet Will I Praise Him" is a testimony to the message that, although life brings many obstacles, you can get through them with prayer and praise! Rena's CD entitled "Awesome God" also tells the story of who God is. Her personal testimony, "Call on Jesus" and latest single "I Believe" was inspired through her night season of nursing of her husband through his successful bout with cancer. "My desire is for my audience to be drawn by the music, their hearts to be touched by the lyrics, and their spirits lifted by the message, compelling them into a closer relationship with Jesus Christ," Rena says.

With a gift to lead people into the presence of God through Praise and Worship, she criss-crosses the nation, ministering to multicultural communities and crossing denominational boundaries. "I was created to do this," she explains, "and I can't imagine myself doing anything else."



Rena is no stranger to media, her music having been in rotation on local, national and international radio and on TV stations as well. Featured on a host of other shows including Dorinda Clark-Cole's show "Dorinda", Pastor Dan's "I'm Just Saying" as well as TCT, CTN, Impact Network, Rena also appears live on the Word Network. Rena has been interviewed by TV and radio hosts, and was crowned the first winner of Praise 102.7 FM Radio One's "Made in the D" Artist of the Season. Rena has been featured on the BET "Dr. Bobby Jones Gospel" show; his comment was "Rena … where have you been? Simply Fabulous!"

Rena has a new show "On The Road with Rena Hayes" soon to debut on The nPowered Television Network.


Rena Hayes is a seasoned, skilled, and anointed artist for such a time as this. You will be blessed by her music and encouraged by her message. Join her on her journey of Praise!





---